Spreading happiness. One hat at a time.

Welcome to Hats4Happiness

When 8 year-old Dustin began rapidly losing his hair due to an unknown cause, he felt a duty to help other children going through the same experience as he. Dustin knows how it feels to be different and the source of comfort hats can provide when he is feeling most self-conscious and vulnerable. This is why Dustin has created Hats4Happiness - a non-profit organization to collect hats for children losing their hair due to any reason. Your hat donation is so appreciated and you will be providing a safety net for children in need of comfort during a time they feel most exposed. All monetary donations will be directed to research for a cure for Alopecia.  There is little research at this time and Dustin's goal is to create awareness of this disease. Thank you in advance for anything you can give.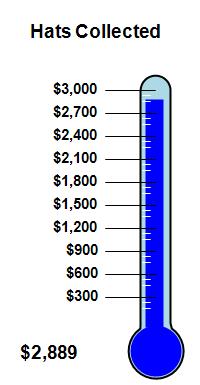 Dustin is working towards his next goal of collecting 3,000 hats.  Recently, Jordan Jackson School, with the aid of Life is Good, collected over 500 hats. Keep the hats coming! H4H was also featured in the Mansfield News! Dustin is looking forward to reaching his new goal of helping others. Peace and Love in 2015, Dustin and H4H Family