Spreading happiness. One hat at a time.

Welcome to Hats4Happiness

When 8 year-old Dustin began rapidly losing his hair due to an unknown cause, he felt a duty to help other children going through the same experience as he. Dustin knows now how it feels to be bullied for being different and the source of comfort hats can provide when he is feeling most self-conscious and vulnerable. This is why Dustin has created Hats4Happiness - a non-profit organization to collect hats for children losing their hair due to illness. Your donations to purchase hats is so appreciated and you will be providing a safety net for children in need of comfort during a time they feel most exposed.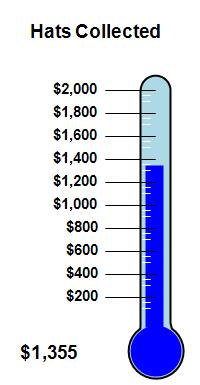 The Hats4Happiness Extravaganza held on May 18th, 2013 was a HUGE success! 327 HATS were collected!! Dustin sends his biggest thanks to Kelly O'Brien, The McLaughlin Family, The Cadoff Family, the The O'Brien Family, Reverend Rachel and her team of incredible volunteers at the Union Congregational Church. It was awesome to feel the love for a little nine year old who had an idea to help others without hair. These hats were donated to Children's Hospital on May 30th and the rest were sent to the National Alopecia Convention in St. Louis, MO at the end of June.